Paintings 2015
TO THE RIGHT-
This canvas called me for a date, I said no, for three years it hounded me, sat idle in the corner waiting for some magic, waiting for "it" to arrive. At about a year and one half I felt compelled to paint it just to "get it done". Then it sat with great big circles on the canvas. It sat and waited longer to be played with, to be seen. Then Fall of 2014 people commented about this canvas, now sitting upright in the far corner of my workspace. People asked how much, what its about and what about it? I didn't have an answer. I'd wave my hand and say "Its not finished" Most shrugged and moved on. However, a few stood and stared at it as though they already saw the potential.
After that show I decided to paint three images. Two 3'x17" and one 6'x17" the other piece you see on this page is the 6' piece called, "Willing your love."
After these were finished, without much thought I went to the big canvas. The energy of the canvas is alive and it brought me detached pleasure to work with its surface.
My very best friend who knows me very best said nonchalantly, "Looks like transformation". I think she's right. It does look like a transformation in my style and execution. I am the vehicle for which the art transmutes. I met this piece and "Willing your love" through love vs. thought. I trusted what came out more than I ever have before. A few months before I was a bit stuck. I sat on the studio couch and said to myself, I can paint and be critical or I can paint and be gentle, either way, its likely the same art will come out. On this premise this piece created itself.
There is also a greater story about how the physical canvas came into my life. I am a spiritual teacher and professional public speaker, in addition to being a fine artist. Its pathway to me affirmed our connected nature. It was a gift from one I'd never met in this life but I feel he left a reminder for me to no matter what express what is within me and paint! Above all else paint life large. So I did and I am grateful for this gift from him and within me.
Willing Your Love
ABOVE
This 6'x17" image is about free expression. It told me to make it, to be bold, to use red and leave the muslin behind exposed. It told me to forget gesso and go for rabbit skin glue. I can only imagine what that really is, I'm paralyzed at the thought of "googling it" to find the real answer.
I also have Michael Harding's oil paint on my palette. I never realized it is not totally the artist, it is also the supplies which make the artist great!
The lavish color fills the canvas with vibrancy and displays the natural tendency for love to bubble up "the goodness of what is". It opens space for experiences, you name it, love rules!
The "Willing" part is not about wanting or trying for love. It is instead about intending love to proliferate within our life. Because we hold this belief, it does indeed fill our life through truth.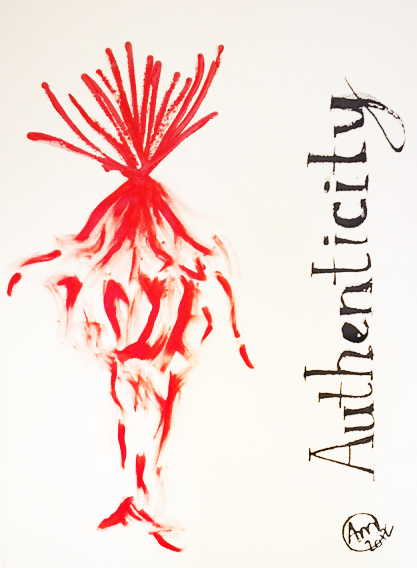 Authenticity 36x48"
This one was created in 2012 and reigns as a favorite among many. It's freeform figure to the left and scientific eye dropper font to the right create a vibrant visual punch and lasting impression.